Summer is a busy time for everyone, and for many of us that means lots of birthdays, parties, family get-togethers and the like where gifts are exchanged.
One of the most meaningful gifts that you can give to someone is a nicely-framed photo of themselves or their child, but just because you're printing out a photo and putting it into a frame doesn't mean that it has to be boring.
Today we'll look at a few options that ImageFramer offers you to make photo gifts much more memorable!

Here's a really cute photo of a little girl blowing on a dandelion puff. This is nice, but how can we make it really memorable?
To start, I've added a mat around the photo to give it some padding – this is because I want to use a fancy frame, but I don't want the design to obscure any of the actual photo. I've picked the French Buff mat and increased the width by 16.46% by using the slider on the right, in the Layer Settings tab.
Now it's time to add our fun frame!

To keep the floral theme in the photo I've selected the Sunflower frame. As we can see, it really makes the photo stand out by adding interesting, fun visual elements and a bit of extra colour. Now this regular photo makes an interesting and memorable gift!
Let's try something a bit different. Here we have a photo taken of a couple at a wedding celebration, so how can we make this photo stand out even more?

Since there are already a lot of strong colours in this photo — the red of the woman's nails and dress, and the grey and black of the man's suit — I've decided to tone it down a bit by adding a very muted being frame. As you can see, this is a "wedding" frame and because of the way that the frame "cinches" in the middle it pulls the focus of the photo to the champagne glasses instead of the strong colours. This frame also helps tell a story about what the photo is from – because of the "wedding" theme of the frame it's easy to tell that this is a photo of a wedding.
I'm sure now you're getting the hang of things, but let's do one more together to see how ImageFramer can help you customize photos for your loved ones!

This photo is super cute – a couple, obviously kidding, with the girl giving the token "foot pop" as she embraces her beau. There's no way we can make this more special, right? Of course, there is! With ImageFramer there are so many ways that we can make our photos even more special.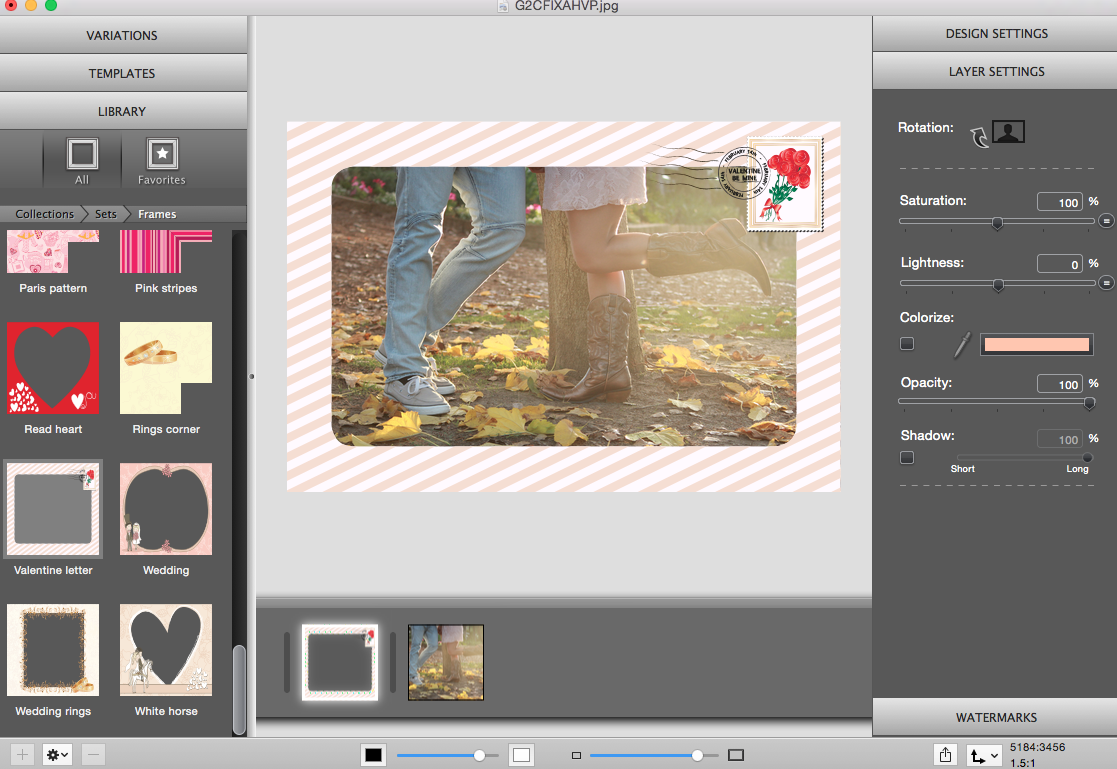 For this photo I've kept it pretty simple – I've selected the 'Valentine Letter' option. Even though Valentine's Day is far away, this super-cute frame helps amplify the love that we see in this photo. By adding this ImageFramer frame we've made this photo into the perfect gift for the lovebirds in your life!
By adding personal touches to photos in ImageFramer we can make photos even more unique and special when we give them to people that we care about.
Now it's your turn! Join our Facebook community and show us your favourite frames!
ImageFramer 4: Your art. Showcased.
Download the best-in-class Mac app for adding photorealistic frames and mats to photos and artwork today.