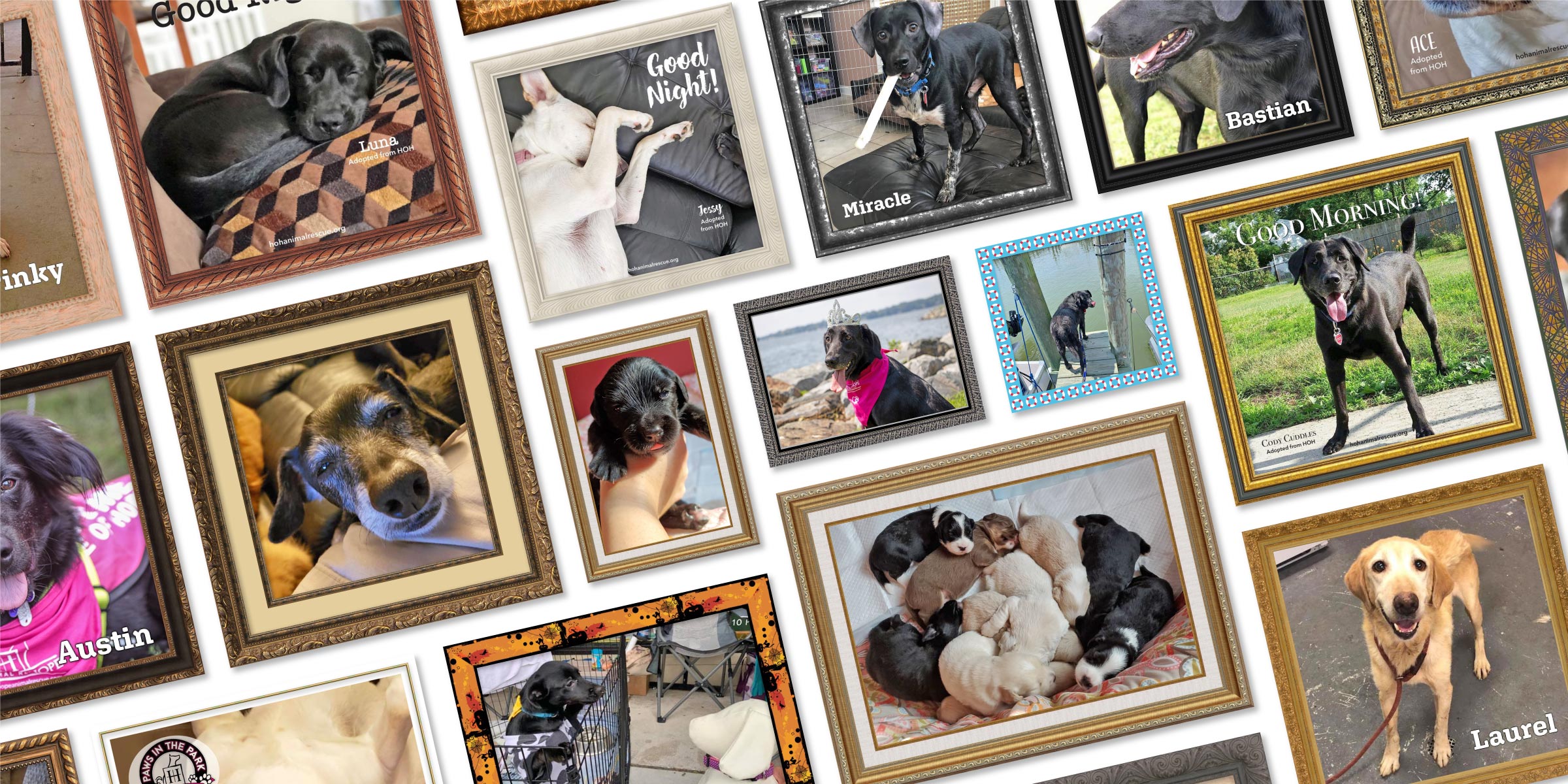 When Roberta Recor found herself in a career transition, it didn't take her long to find a meaningful way to spend her newfound extra time: using her many marketing skills to save lives—Labrador lives, to be specific. As a volunteer for House of Hope Animal Rescue in Maryland since 2016, Recor uses ImageFramer throughout her work. From listing pups on Petfinder, to contributing to the website, posting on Instagram, and promoting the rescue's annual fundraiser, Recor relies on ImageFramer. ImageFramer Pro's huge frame library, batch processing, and the color customization capabilities (available in all tiers of ImageFramer) help her create just the right look for each use.
House of Hope Animal Rescue, a 501(c)(3) nonprofit, strives to find "a perfect home for every dog." Primarily focused on saving black Labs in high kill shelters in the U.S. South, House of Hope dedicates a tremendous amount of time and effort to matching each dog to a forever family. Roberta Recor's social media work with ImageFramer plays a central role in this process.  Recor's volunteer day begins when she checks the rescue's private Facebook group to see which new dogs will soon be available for adoption. There, in the private group, she finds photos of the dogs, usually from the shelter that temporarily housed them, or from a House of Hope foster family with whom the dogs stay prior to adoption. Each group posting also contains a brief biography of a dog, including any health challenges they face. House of Hope, working together with veterinarians, does everything possible, from heartworm treatments to surgery, to help dogs return to excellent health, while also being up front with potential adopters about each pup.
Recor downloads all the photos, carefully examining each for what will work best as the pup's profile photo, while also searching for any other images that are good enough quality to use. Just like with us humans, dog profile photos work best when the picture "really focuses on the face," Recor explains. "I want a really good up-close photo." Next, she corrects each photo in Photoshop.
"I lighten them [because] nine or ten times out of ten, any photo from a handheld device, an iPhone or whatever, will have a color cast so I brighten up the photo to take that color cast off."
Then, Recor frames the photo. Even before Recor joined House of Hope's marketing team, they were framing dog photos, underscoring how pups are akin to our canine kids by presenting their images much as one would do with school or holiday photos. Having marketed a custom framing business for the past decade, though, Recor knew there had to be better software available than the limited mobile app she was using at the time.
"I Googled on my Mac to find a better frame program. When I saw custom picture framing brand names I recognized [within ImageFramer], I had to check it out."
ImageFramer 4: Your art. Showcased.
Download the best-in-class Mac app for adding photorealistic frames and mats to photos and artwork today.
Typically, in preparing a future adoptee's story, Recor chooses just one photo to frame. Choosing from among ImageFramer's thousands of frames is her favorite part of the process. To find just the right one is a matter of art and feel.
"I bring the picture of the dog into ImageFramer and I keep looking at different ones until I find the one that seems to work with that dog. I might pick up something in the eyes of the dog or the color of the coat or just the feeling I get from the photo that leads me to a certain type of frame."
"Picking the frame, sometimes I'll find the right one on the first try and other times, I'll try 20 different frames and then I'll go back and go—it's this one! It's kind of a mood thing."
Although she doesn't use them for profile photos, Recor has also put some of the more lighthearted scrapbook-style frames to good use, including those from the Summer Frames Pack. House of Hope offers a private Facebook group for adopters, with the understanding that pet pictures posted there can be used to market the rescue to potential future adopters. When Recor saw a post of a lab clowning around with a pool float, she knew just the right frame.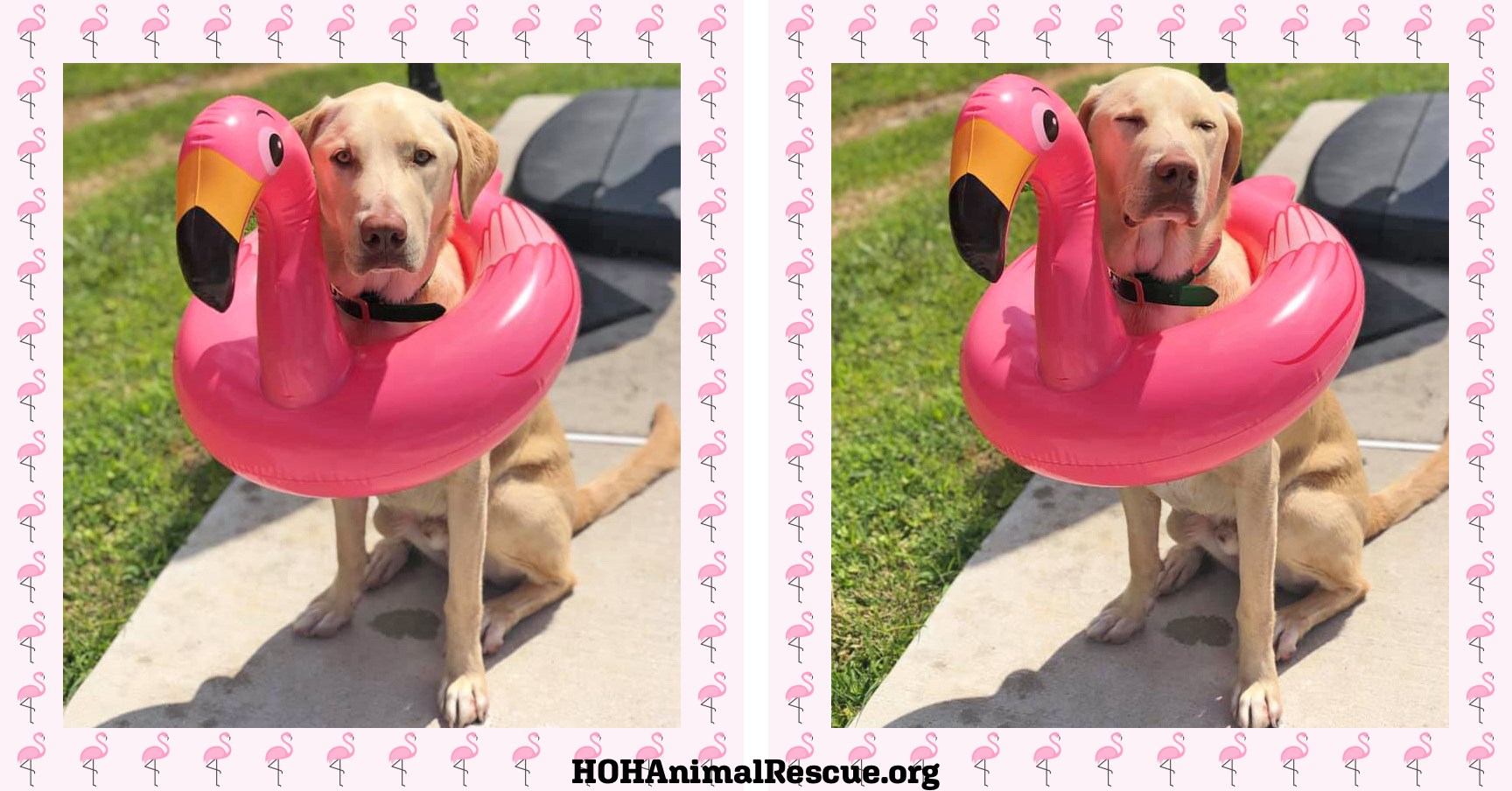 The batch processing available in ImageFramer Pro is what led Recor to upgrade. House of Hope commemorates each adoption with a "Gotcha Day" photo of a lucky pup with their new family. "When the dog gets adopted, I'll do the type on the photo and I'll post it for Gotcha Day," she explains. Once a month, Recor gathers all the Gotcha Day portraits from the previous month to assemble into a video slideshow. Before bringing the images into Apple Photos to create the slideshow, she speedily applies a consistent frame to each picture.
"I bought Pro because I realized if I could batch process, I wouldn't be taking up to 30 Gotcha Day pictures and doing them individually. That's been a big time saver."
Check out August 2019's Gotcha Day slideshow
.
Recor also used batch processing together with a custom preset to prepare a series of countdown images, shared daily on social media, to build excitement as House of Hope fans anticipated the Paws in the Park fundraiser, which was held on Saturday, September 14, 2019. For these, she designed the posts in QuarkXPress before bringing them into ImageFramer to add a clean, consistent frame. "I don't want something flashy, I went to something very understated," she said, explaining her design approach for this series.
"I color correct the photos in Photoshop. I import them into Quark; I put the type on there… last night I did from Day 45 down to Day 20. I saved the images as JPEGs out of Quark. I batch processed those using my preset. That was the first time I did my own preset frame… it was the gold one but I wanted a little narrower with the spacing a little different so I just set that up [and then began the batch processing]… the speed! I clicked the button and in seconds I framed twenty-five images!" 
Perhaps the most moving use of ImageFramer Pro's batch processing was when Recor framed the thirty-five photos that tell the story of a terminally ill mini-Lab, J.J. When there is a need, House of Hope will take in sickly dogs that are not expected to recover. The best outcome in these cases is a loving hospice foster. Says Recor, "we're going to show him the best rest of his life that we can!"


Another favorite ImageFramer feature Recor employs is colorizing a frame to reflect House of Hope's branding.
"The magenta for House of Hope is a specific pink and the other day I took that gold plain single border (the Gold band frame) and turned it that color pink. I was able to plug in the #ED008C [hexadecimal color code] and
bam!
That customization is pretty cool!"
(The ability to colorize frames is available to all ImageFramer users.)
Recor continues to discover creative uses for ImageFramer in both her personal and professional lives. Her own social media profile and cover photos, like that of many pet lovers, feature the family pups, framed in ImageFramer. Recor was especially glad to have this tool to hand when a close friend had to suddenly bid farewell to her own beloved pup.
"She had posted last night that her old boy Parker had unexpectedly died yesterday. I'm sitting here in tears… I'm pulling up the picture I took of Parker with my phone and I put through it ImageFramer and [right away] posted it back." What a beautiful digital keepsake to be able to share.
ImageFramer 4: Your art. Showcased.
Download the best-in-class Mac app for adding photorealistic frames and mats to photos and artwork today.