The Shortcuts app is the new way to use automation on the Mac. Now available on macOS Monterey, Shortcuts first started on iOS.
The action that ImageFramer adds to Shortcuts is "Apply ImageFramer Template". The template must exist in ImageFramer's Templates tab and you can select it by name. The name can either be specified in the action or it can be chosen when running the action. The sample Shortcut that applies a template on a selection of images in Finder (available through Quick Actions context menu) allows you to choose the template when the Shortcut is invoked.
Here's a quick video showing how to create a Template and apply the Action in Finder:
Download a sample Shortcut
Download the action by clicking on the image of the Shortcut below or click on https://www.icloud.com/shortcuts/d3c78666c1324f6a8d1d4d7246b6a1c7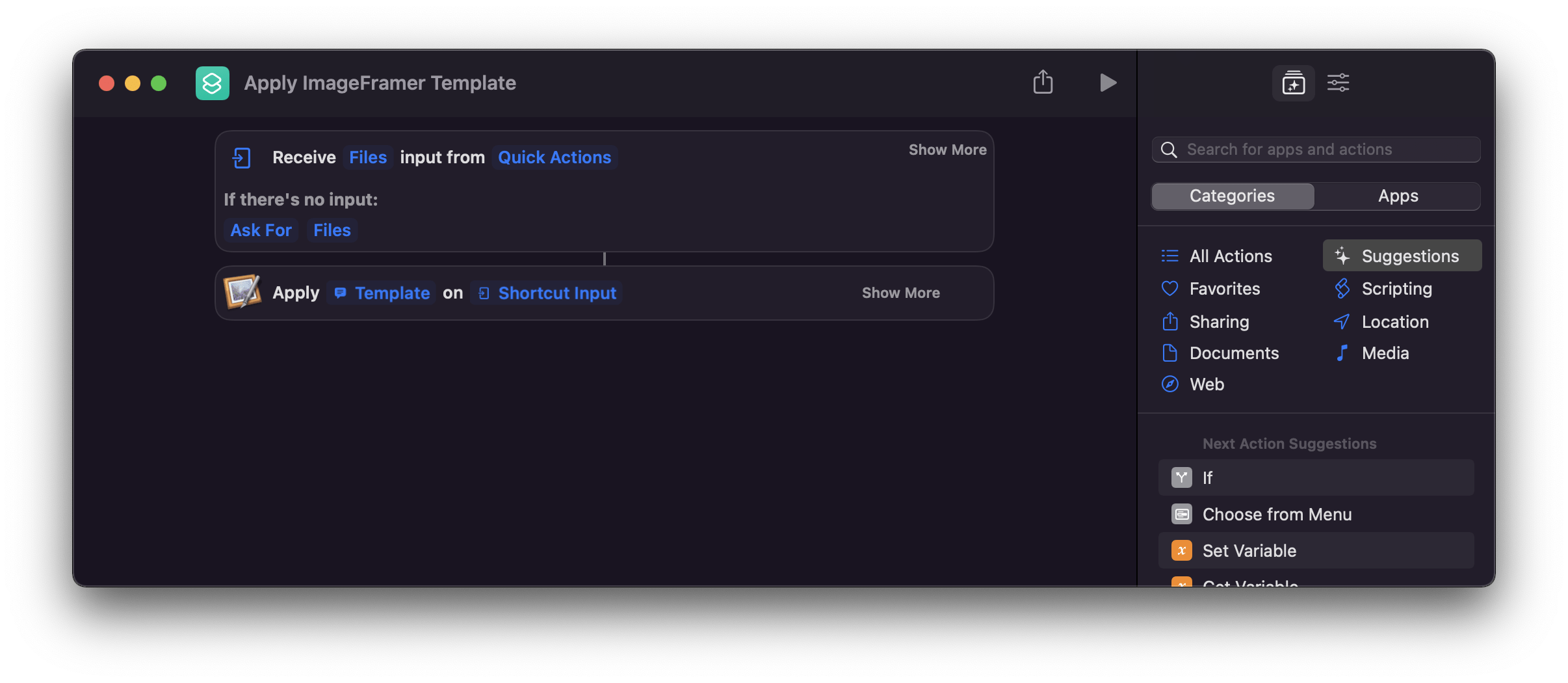 Other changes in version 4.7
Massive update to Image and Text Overlay functionality:

Rotate overlays
Add opacity control to overlays
Add shadow control to image overlays
Drop images from Finder on a design to add a new image overlay
Horizontal Flip for image overlays

Shows updated frames from the server in a list after download with a quick way to find them in the library
Renames Frame Library to just "Library"
Introduces the concept of Stickers in the Library: Images can be added to the Library (Pro feature) and will be added as image overlays.
Use the system color picker (eyedropper tool) in macOS 10.15 and later
Fixed consistency of results using designs that apply both lightness and colorization customization to frames
Fixed a bug that could start naming the wrong new template
ImageFramer 4: Your art. Showcased.
Download the best-in-class Mac app for adding photorealistic frames and mats to photos and artwork today.