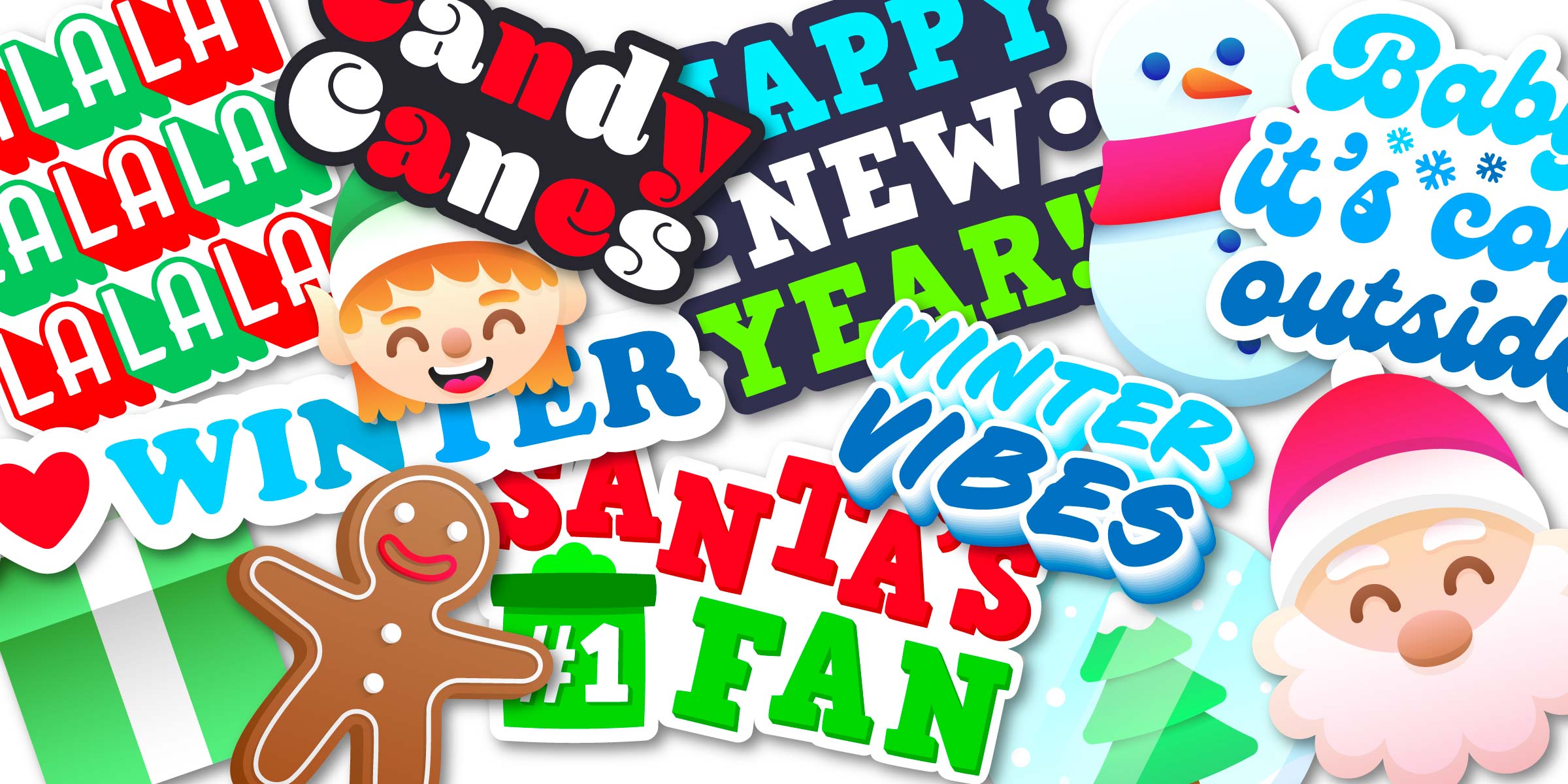 Winter Holiday Overlay Bundle
Five original artist-created sets that will fill your Holidays with cheer! There are overlays for Christmas, Hanukkah, New Year's and the Winter season!
• 42 Christmas Overlays
• 22 Hanukkah Overlays
• 40 Holiday Sayings Overlays
• 90 Home for the Holidays Overlays
• 24 New Year's Overlays
Looking to frame Holiday photos or create Christmas cards? This overlay bundle offers many choices. Consider combining with the Christmas or Hanukkah frames in the Holidays & Celebrations collection for Holiday cards!
Rotate and combine for more creative options!
Get Winter Holiday Overlay Bundle
After purchase, you'll receive a download link. Double-click on the downloaded file to import it into ImageFramer. It installs as five new sets in the Holidays and Celebrations Collection
Christmas


Candy Cane Blue


Candy Cane Green


Candy Cane Red


Candy Cane Yellow


Elf 1


Elf 2


Elf Ear Left


Elf Ear Right


Elf Hat


Gingerbread Man Blue


Gingerbread Man Pink


Gingerbread Man Red


Gingerbread Man


Jingle Bell


Jingle Bells


Letter Blue


Letter Red


Ornament Blue


Ornament Green


Ornament Red


Ornament Yellow


Poinsettia


Present Blue


Present Green


Present Red


Present Yellow


Reindeer Antler Left


Reindeer Antler Right


Rudolph Nose


Santa Mask


Santa


Snow Globe 1


Snow Globe 2


Snowman


Stocking Blue


Stocking Green


Stocking Red


Stocking Yellow


Tree Green


Tree White


Wreath Green


Wreath White
Hanukkah


Candle Blue


Candle White


Candle Yellow


Dreidel


Dreidel Blue


Gelt 1


Gelt 2


Gelt 3


Gelt 4


Gift Blue


Gift White


Goblet


Kippah Blue


Kippah White


Menorah Blue


Menorah Gold


Pitcher


Script


Snow Globe


Star of David Blue


Star of David Gold


Star of David White
Holiday Sayings

All I Want for Christmas is You

Baby, it's Cold Outside

Candy Canes

Christmas

Cold Hands, Warm Hearts

December 25

Fa La La

Gingerbread

Good Cheer

HOHOHO

Happy Holidays

Happy New Year!!

Hellooo Winter!

Ho Ho Ho

Holly Jolly

I <3 Winter

Jingle Bells

Joy 1

Joy 2

Joy to the World

Let it Snow!

Love

Merry and Bright

Merry

Noël

Peace

Santa Claus is Coming!

Santa's Fan

Santa's Little Helper

Season's Greetings

Silent Night

Snow Snow Snow

Sweater Weather

Tis the Season

Warm Wishes

Winter Blessing!

Winter Vibes

Winter Wonderland

Winter is Coming

Wintrrr
Home for the Holidays

Cabin Brown

Cabin Red & Green

Candle Green

Candle Red

Candle White

Candle

Candy Cane Green

Candy Cane Red

Candy Cane Ribbon Green

Candy Cane Ribbon Red

Candy Canes

Cookie Heart

Cookie Man

Cookie Star

Cookie Tree

Cozy Mug Green

Cozy Mug Red

Gift 1

Gift 2

Gift 3

Gift 4

Gift 5

Gift 6

Gift 7

Gift 8

Greenery 1

Greenery 2

Greenery 3

Greenery 4

Heart

Holiday Car Red

Holiday Car White

Letter Green

Letter Red

Mistletoe 1

Mistletoe 2

Mistletoe 3

Mitten Green Left

Mitten Green Right

Mitten Red Left

Mitten Red Right

Mitten White Left

Mitten White Right

Ornament Dark Green

Ornament Dark Red

Ornament Green

Ornament Red

Pie

Poinsettia

Snow Globe

Snowflake Green

Snowflake Red

Snowflake White

Snowflake Yellow

Snowman

Star Red

Star White 1

Star White 2

Stocking 1

Stocking 2

Stocking 3

Stocking 4

Stocking 5

Stocking 6

Stocking 7

Stocking 8

Sweater Green

Sweater Red

Sweater White

Text Cheer

Text Grateful

Text Happy Holidays

Text Joy

Text Let it Snow

Text Merry Christmas

Text Noël

Text Thankful

Toque Green

Toque Red

Toque White

Tree Decorative

Tree Plain

Tree Snow

Tree

Wreath 1

Wreath 2

Wreath 3

Yule Log Fire

Yule Log Fireplace & Stockings

Yule Log Fireplace
New Year's

#Newyear Green

#Newyear Pink

#Party Purple

#Party Yellow

Bubbly 1

Bubbly 2

Fireworks Blue

Fireworks Green

Fireworks Pink

Fireworks Purple

Fireworks Yellow

Happy New Year 1

Happy New Year 2

Happy New Year 3

Happy New Year 4

Happy New Year 5

Happy New Year 6

Happy New Year 7

Mignight

Stars Blue

Stars Green

Stars Pink

Stars Purple

Stars Yellow
Get Winter Holiday Overlay Bundle
After purchase, you'll receive a download link. Double-click on the downloaded file to import it into ImageFramer. It installs as five new sets in the Holidays and Celebrations Collection